News
Submit a Closing Or Delay
Thursday, October 26th 2017, 2:15 pm EDT
Updated:
Thursday, October 26th 2017, 4:06 pm EDT
If you need to submit a school, business or organization closing, here is how you can submit it for Fort Wayne's NBC:
You can use the above submission form with your ID Code and Password provided if you've signed up for our closing system.
Don't have your organization in our system yet? Sign up to have your organization included by emailing us at closings@fortwaynesnbc.com. You can also email us if you are having trouble with the system. A description of how to use the system is below.
To make announcements, enter your closings on our system's web-based interface using your organization ID number and password. This is the easiest, fastest and best way to enter your information.
You can choose from a list of closing/delay options or create a specific announcement for your school in the "Alt/Other Status" field. This gives you complete control over the message delivered to your students and staff. Your information is immediately and continually available on our website. Anyone can access your
alert by going to www.fortwaynesnbc.com. The list of closings and delays can be accessed through a simple 'click through' link under the weather tab.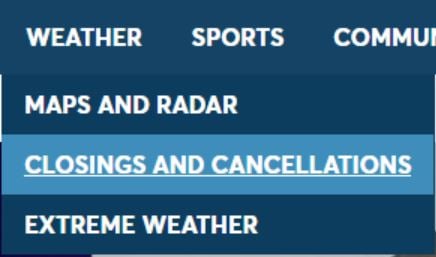 You can still call in your closings. The number to get into the automated closing system is 260-407-0085. You will need your organization ID and password. Then, just follow the system prompts. The news staff can also help you with your entry if you need assistance.
Feel free to call the newsroom at 260-483-8111